Holiday Home Tour Patron Party sponsored by Gordon and Kathryn McLeod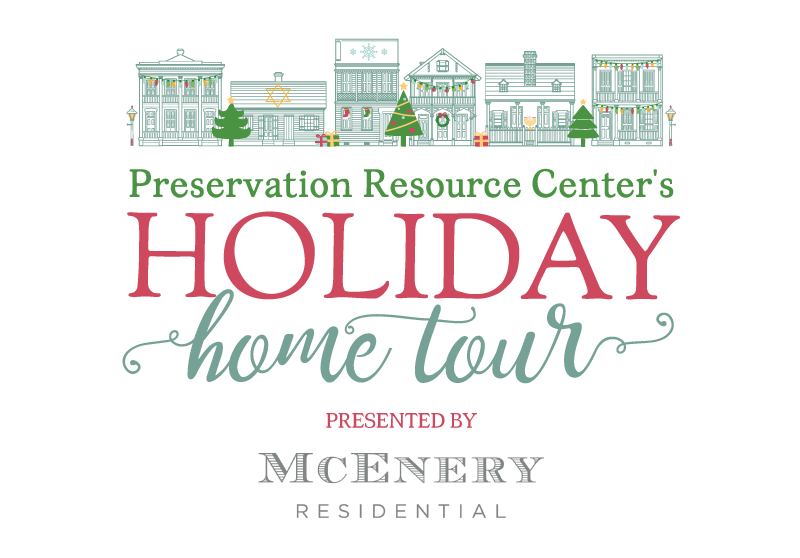 Join PRC for a Virtual Holiday Home Tour Patron Party, presented by Gordon and Kathryn McLeod, featuring a scrumptious three-course meal with wine from Brennan's Restaurant and special appearances by some of the homeowners featured in our video series. Guests are invited to get festive with us from home and enjoy a live sneak peek from our home hosts.
Thank you to our Patron Party sponsors Gordon & Kathryn McLeod
Meals can be picked up from 4 – 6 p.m. on Friday, December 11 at the Preservation Resource Center (923 Tchoupitoulas St.)
Deadline to order Brennan's meal is Monday, November 30
Included with ticket price:
Brennan's meal and wine
PRC swag bag of gifts
Invitation to exclusive virtual party
Listing in Preservation in Print magazine
Special guest appearances:
Some of our Holiday Home Tour homeowners will join the party for a virtual Q&A session.
Submit your photos!
Guests are invited to send photos of their own Patron Party gatherings. Winning photos will be featured in an ad in St. Charles Avenue magazine and our own Preservation in Print magazine.
Patron Party Chairs
Sarah Martzolf
Katie Witry
Jessie Haynes
Patrons
Mimi & Herschel Abbott  •  Dorothy Ball and Adam Campagna •  Backatown Coffee Parlour  •  Kathlyn and Beau Bethune  •  Mrs. Gayle Benson  •  Jeanne and Sherman Boughton, Jr.  •  Leslie Bouie  •  Adam and Anna Breaux  •  Bradford J. Breuhl  •  Carling Dinkler  •  Sweet & Ben Dupuy  •  Elizabeth and Jack Egle  •  EskewDumezRipple, APC  •  Mrs. H. Mortimer Favrot, Jr.  •  Blaire Fernandez and Mike Katz  •  Vaughn Fitzpatrick  •  Penny and Todd Francis  •  Susan and Chris Granger  •  Stacy and Jeremy Head  •  Odom Heebe  •  Matt Helling  •  Tricia and Charles King  •  Neal and Kathy Koenig  •  Ella and Charles Landis  •  Sarah Landrum and Marshall Hevron  •  June and King Logan  •  Julie McCollam  •  Sarina Mohan and Chris Blum  •  Neal and Anne Morris  •  Anne and James Morse  •  James Mounger  •  Constance and Brian Nelson  •  New Orleans Architecture Tours  •  Alma Slatten Pettit  •  Jill and Minor Pipes  •  John Pope  •  Alexa Pulitzer and Seth Levine  •  Yolita Rausche  •  Tom and Kathy Reeves  •  Tia Roddy  •  Dr. Dreda Romig and Conor Lutkewitte  •  Kenneth Schwartz and Judith Kinnard  •  Stephanie Stokes and Dan Shea  •  Aulston Taylor  •  Mr. and Mrs. David Wagstaff III  •  Mary Wallace and Jonathan Shaver  •  Tommy Westervelt  •  Rosalind and Peter Wilson, Jr.  •  Laura and Jonathan Wilt  •  Katie Witry and Todd Riché  •  Miguel Soler
Thank you to our sponsors!
Patron Party Sponsor
Gordon and Kathryn McLeod
Food Sponsor

For more information or questions, contact Development Director Michelle Courseault • michellec@prcno.org • 504.636.3056