Tune in to the virtual Shotgun House Tour on June 27 for a virtual tour of this home and Q&A session with the homeowners, contractors, and designers who make the space come alive. Learn more & register to join the discussion!

Click here to see the full schedule of upcoming virtual Shotgun House Tour events.
Given the chance, lighting designer Julie Neill wouldn't live in a bigger or fancier house. She's prefers a shotgun, not just because of the house type's significance to New Orleans' architectural landscape but also because of her memories living in one in her early childhood years.
"They're dear to me," she said. "Shotguns were workers' houses, and they took the time to make them this beautiful. It makes me wish for a world where beauty was still that important.
"Every detail in this house was carefully thought out," Neill added. "There's no option to leave this house. There's no other house exactly like this to go find."
Neill's Italianate camelback shotgun sits on Camp Street behind a bustling section of Magazine Street, just a few blocks from the studio for her lighting design business on the retail thoroughfare. The circa-1880 home, which features semi-rusticated drop siding and a cornice with enlarged dentil molding, is one of four matching shotguns that dot the north side of the block.
Each one has a hipped roof supported by five oversized brackets that extend farther down the façades than typical brackets. Each contains a newel-like ornament in the center of its sweeping curve and inset panels of pierced scrollwork.
The brackets punctuate the two floor-to-ceiling arched Italianate windows with their arched louvered shutters and the two paneled entry doors with arched transoms. Iron fences unite the properties.
Finding the 2,800-square-foot house is a New Orleans story, Neill said. She'd made an offer on the shotgun on the block's right corner. When that deal fell through, real estate agent Fred Buras, the previous house's listing agent and a former resident of the area, took her house hunting. Nothing fit the bill as well as that shotgun, so Buras promised to make a phone call. He contacted neighbors and asked if they'd be willing to sell their home. They agreed, and Neill purchased her home in 2006. "This was a better deal for me," she said.
It gave her the chance to create a soothing oasis that in part serves as inspiration for her hand-crafted, luxe lighting designs, which include both custom pieces and her popular line for Visual Comfort.
Each design starts as a sketch in the study Neill created in the front two rooms on the home's left side. The rooms contain her drafting table, glass-front storage cabinets built on either side of one fireplace, and a daybed she designed, a reminder of her days creating furniture before turning to lighting. It and a sofa along the second room's wall serve as spots to think.
"I always have a contemplation spot and a drawing spot," Neill said. "That's how I work. I think about things and then I draw."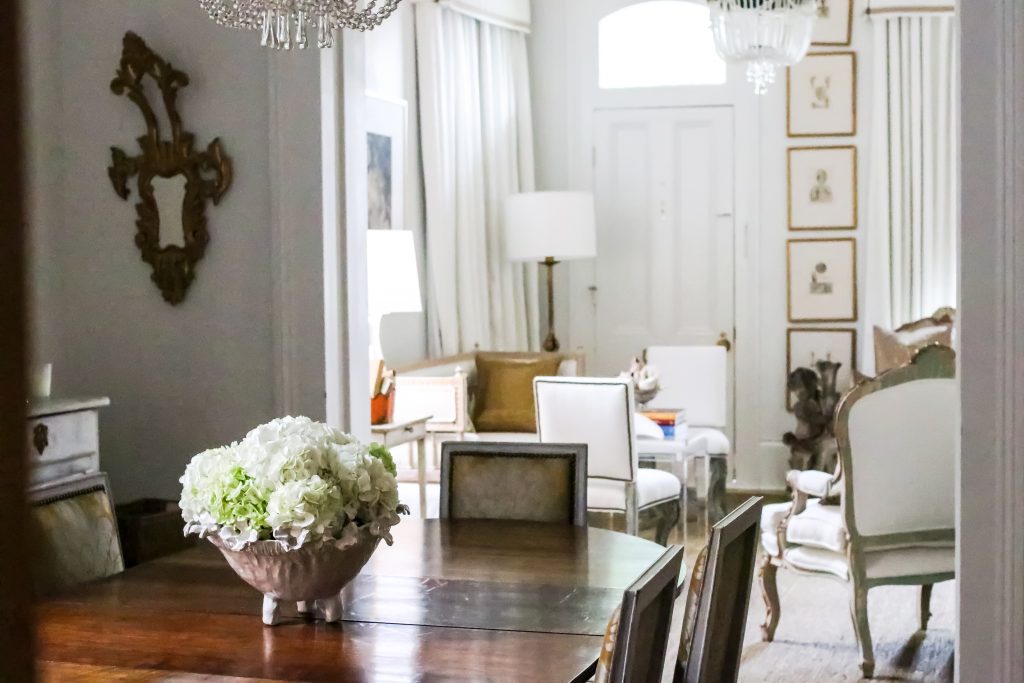 Her lighting business, Julie Neill Designs, sprang from a chandelier she dreamed up for a designer show house — she was working as an interior designer at the time — and had crafted by an artisan who specialized in creating copper fountains. Now, chandeliers and lanterns that she has designed over her more than 20-year career hang from her home's 12-foot ceilings. Original plaster medallions provide a beautiful backdrop for them in the front four rooms.
In the master bedroom, there are two unique hanging light fixtures. Both have large-scale, 1950s-era lampshades Neill rescued from a garbage pile and covered in feathers. "I cannot take them down," she said. "Everyone falls in love with these light fixtures."
That same eye for renewal has been put to use as Neill has gone through various renovation projects as her two children, who were both teens when the family moved there, have grown and the family's needs have changed.
"Thousands," she joked about her various projects. "My grandmother was like this: Anytime I see something that could be better, I'm like, 'Let's do that'."
Changes during the years have included uncovering the two sets of cypress doors that stand on either side of an original, non-functioning fireplace and connect the dining room and study. They'd been hidden behind sheetrock when previous owners converted the once single-family residence back to a double whose left side was a rental.
Another project saw a new, spacious kitchen created in the left side's third room, while the kitchen Neill first used on the right side became a butler's pantry. A door in the kitchen opens to the camelback addition's stairs. Upstairs, she converted three bedrooms into one bedroom with living and dining spaces and a kitchenette.
Two small rear bedrooms on the right side became one large den filled with comfortable furniture, including pieces found at Antiques on Jackson. Neill hung two of her Audubon Crystal chandeliers in the room, and turned a closet into a home office. It is tucked behind antique entry doors she found in California.
The latest renovation will include a cased opening from that sitting room to a new laundry and mud room and a hallway with locker-style closets. French doors will open to a porch — Neill is adding eight feet to the house to get it — and a petite rear yard. The project also includes a new master bathroom and dressing room-style master closet.
Neill worked with architect Jessica Becker and Yahoo Restorations to get exactly what she wanted in this project. "There's no, 'I'm going to fix this better later'," she said. "I'm not renovating again."
With each renovation, Neill has been careful to keep the home's historic character, such as the left front door that now opens to her study, the raw-grain cypress doors and the original wood floors, which she had pickled.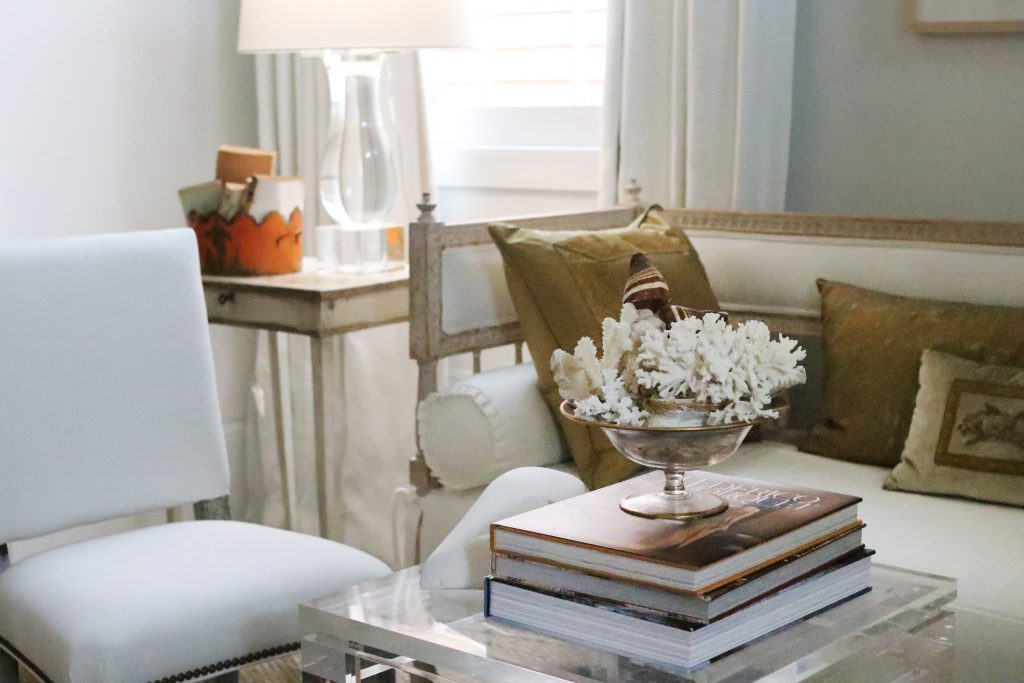 She also kept much of the shotgun layout. "Some people want to buy (a shotgun) and gut it. You've got a shotgun on the outside, but a condo on the inside. Can't do it," she said. "It's not an open plan, but you start to live in it like it is. All the doors stay open."
Except for a hall bathroom — painted a chocolate brown — every wall is coated with a fresh shade of white. Creamy floor-to-ceiling drapes adorn the windows.
They serve as a backdrop for a mix of antique and modern neutral-hued furniture, where there are displays of collected treasures, fresh flowers — Neill believes you can never have too many — and ceramic candlesticks and vessels by friend Lisa Alpaugh of Libird Studio.
"I like white because white is clean, and it doesn't complicate my mind. It's just happy. It's beautiful. It's light," Neill said, adding that keeping furniture upholstered in the same creamy fabric allows for pieces to be easily moved from room to room.
"I'm playing all the time, so I like my options to stay open," she said.
On top of it all, Neill has layered colorful abstract art, antique architectural lithographs and furniture drawings, and her own large-scale paper collage pieces. "I collect local art," Neill said of pieces by friends Amanda Talley and Katie Rafferty, as well as works by Adam Farrington and Kevin Gillentine.
She often brings home architectural pieces because "I just love architecture. I love the details. I'm a detail person, and all that kind of feeds into whatever it is that makes me think up what I think up."