Tune in to the virtual Shotgun House Tour on June 26 for a virtual tour of this home and Q&A session with the homeowners, contractors, and designers who make the space come alive. Learn more & register to join the discussion!

Click here to see the full schedule of upcoming virtual Shotgun House Tour events.
Embrace color. It's what KV Harper, principal and founder of the architecture planning and interiors firm KEX Design + Build, tells her clients who are renovating New Orleans houses.
In renovating her own Seventh Ward double shotgun, Harper took her own advice, adding layers of rich colors that speak to the city's tropical environment and its history.
Shades of pale pink paint — one for the façade's drop siding and another for side elevations' weatherboards — set the house apart on its colorful block. Inside, there are similar pink tones in the tasseled hanging light from jungalow.com and the tufted velvet Anthropologie sofa.
A bright yellow mid-century chandelier provides a striking focus in the master bedroom. Harper used Sherwin Williams' Anchors Away for its accent wall, as well as for a living room wall and the kitchen cabinets. There, the navy color complements the deep green backsplash tiles.
Grounding all the colorful décor choices are the warm tones of the reclaimed wood, used throughout the house, and the cool gray of the plastered walls in the living room and hall bathroom. "I definitely wanted a very colorful, bright and airy home that used lots of different colors," said Harper, who shares the home with her partner, Patrick, and their dog, Ladybird.
The couple even carried bright colors into the backyard, whose design was inspired by travels. There, a teal stenciled patio — Harper painted it during the COVID-19 shutdown — pops against a bright pink fence (Sherwin Williams' Exuberant Pink). It features a mural by artist Tyla Maiden honoring Barrow's Catfish, one of the city's oldest Black-owned restaurants.
The back wall of the house is painted a bright blue, what's become a signature at most KEX Design + Build's projects. "I did it for the first time in Brooklyn, and I just like that pop of blue, especially with outdoor furniture. And it made it different from all the rest of the houses in the back that were brick or brown. It's fun," Harper said.
She cut her renovation teeth on a Brooklyn brownstone she purchased in 2013 while working as an advertising strategist. She founded KEX Design + Build in 2017 in part because her search for contractors, both for her New York and New Orleans homes, turned up very few firms run by women or people of color.
In Harper's design projects — including local ones and working with clients in New York City, Amsterdam and London — KEX strives to make "design attainable for people in a way that celebrates diversity and really honors the architecture and the people and the culture of the cities that we're in," said Harper, who runs KEX from New York and New Orleans.
Born in Miami and raised in Seattle, her journey to becoming a New Orleans homeowner began when she first visited the city with a friend from Howard University. Subsequent trips brought her to areas outside of the tourist hot spots. Only then did she begin to understand New Orleans' culture and history, its place in African-American culture and history, and "also how it's inspired the larger American and also worldwide culture in terms of music," she said.
"When I started looking for and renovating a house, I really wanted to sort of honor black tradition in New Orleans and the history of black culture in New Orleans," she added.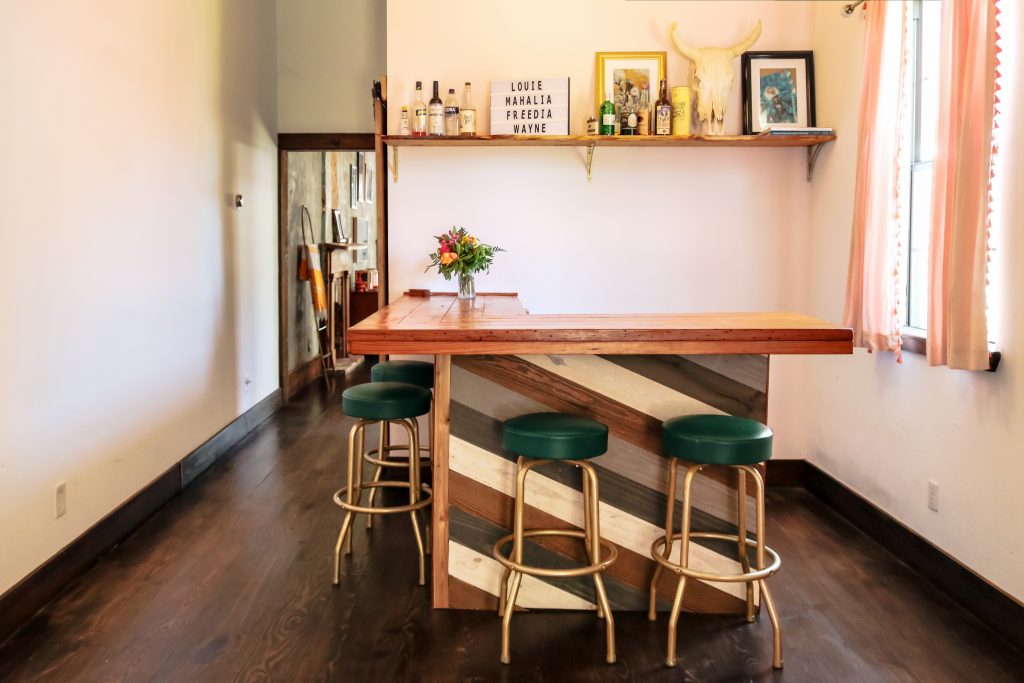 Harper found the 2,800-square-foot double camelback shotgun online and made an offer before seeing it in person. The quick decision came because the property met several of Harper's house-hunting criteria. It was something she could afford as a second home. It had a "good structure to build off of," she said, and it was a double, the type of house for which she was searching. It had 12-foot ceilings and plenty of space.
"It wasn't in the worst shape of houses I looked at, but it wasn't in the best. It still had some historical touches," she said. The home had vinyl flooring laid over the original wood floors, and the exterior's vinyl siding and boards covered up the front windows.
While there are few details about the house's original style or previous owners, Harper estimates it was built sometime in the 1920s or 1930s based on city records. Exterior elements show how, like many New Orleans shotguns, it changed over time. The façade features drop siding and original floor-to-ceiling, four-over-six-pane windows, while iron railings and posts support the porch roof. It extends from the pitched roof whose gable contains a central attic vent.
After buying the home in August 2016, Harper began a gut renovation that was completed in March 2017. To help with the project's budget, she kept the shotgun's double configuration (the right side is a rental, and Harper's side has use of the camelback addition). Existing layouts, as well as the plumbing locations, also stayed the same on both sides.
"If I'd had a higher budget, I might have changed the bathroom configurations a bit. But I love the idea that the house has been in the same configuration for probably the last 50 years, at least since the camelback came on. That's kind of a neat idea: that we're living in the house like all the other families before us," she said.
She made only one structural change: removing the wall between the two front rooms to create a large living space. The rooms, separated by a cased opening wrapped in reclaimed wood, "still feel very distinct in their own rights," Harper said.
It's now one of her favorite spaces "because it feels very cozy. There are plants. There's artwork," she said. That artwork includes pieces by emerging black artists from Nigeria, as well as a portrait of New York City-based performance artist Ayana Evans taken by Tsedaye Makonnen. Over the living room sofa, there's a commissioned piece by Khalif Thompson that is inspired by New Orleans.
The artwork is one of the ways Harper honors the city's black history and culture in her décor. There are also yellow theater seats — found on Ebay — that came from a segregated movie house. Gallery walls display family photos with civil rights-era photos and prints, Haitian revolutionary soldiers, and vintage data charts created by African-American sociologist and scholar W.E.B. Du Bois.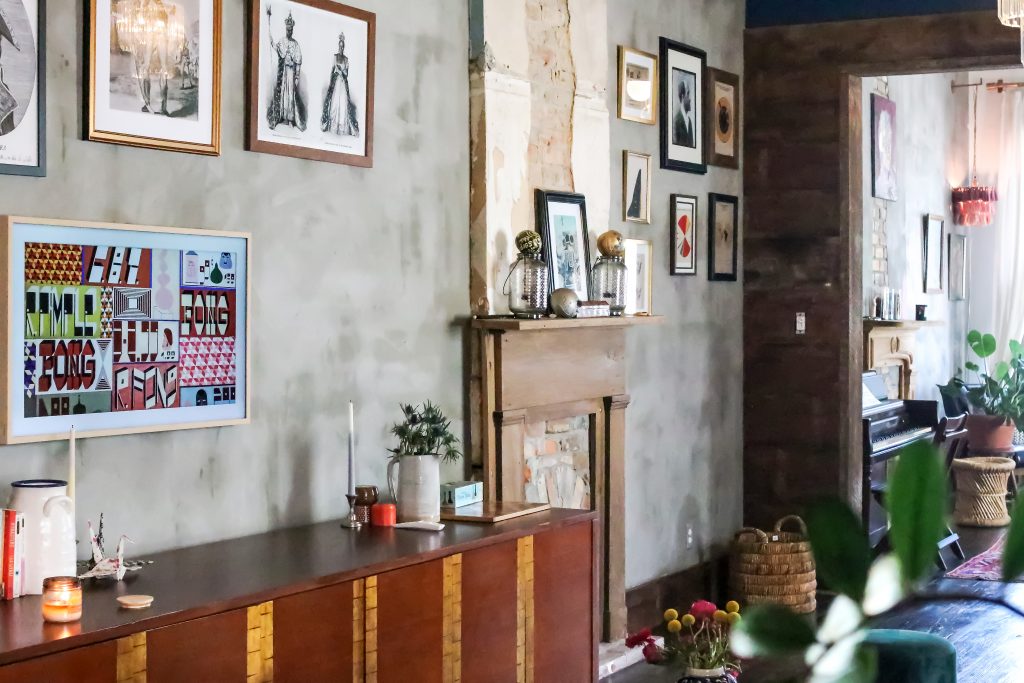 "A lot of the pieces were very intentional in terms of what I wanted to show," she said, adding that she sought out vintage furniture, such as the credenza placed between two of the three original fireplaces.
The fireplaces had been covered by drywall, and were badly in need of repair. Harper's first contractor told her they could not be saved. When her preservation contacts in Brooklyn said otherwise, she found contractor Erix Peres. He was able to save the fireplaces and add salvaged mantels. Peres completed the house's renovation and became part of the KEX team.
As part of the renovation, Harper intentionally chose historically appropriate materials that were true to the house's age — a decision that also ended up being budget friendly — while also adding a modern twist. "I definitely had a much more modern aesthetic before I purchased this house," she said. "One of the things I try to do — whether it's my own renovation or a property I'm developing for the business or a client – is to respect the space."
There are dark wood floors — including the new-growth pine planks installed when the original floors could not be saved — and salvaged brick floors in the kitchen. Reclaimed wood became kitchen and upstairs bathroom counters, a custom bar, kitchen and bathroom shelves, and the custom casings for the salvaged interior doors.
Modern elements include the black hexagon tiles in the hall bathroom. In the upstairs bathroom, Harper combined black and white hexagon tiles to create a dramatic door-less shower. "I wanted to have a really open-style shower that's very reminiscent of what's in Mexico and Caribbean," she said. "It definitely has a more muted color palette."