This story appeared in the June issue of the PRC's Preservation in Print magazine. Interested in getting more preservation stories like this delivered to your door monthly? Become a member of the PRC for a subscription!
On a sunny weekday afternoon in May, the 8600 block of Spruce Street in the Carrollton area was mostly quiet, with just the distant hum of cars on Claiborne Avenue providing occasional background noise. Once upon a time, though, this spot was filled with piano music.
Olivia "Lady Charlotte" Cook, a jazz pianist and music teacher, lived for more than seven decades at 8608 Spruce St., a modest Arts and Crafts-style shotgun house that her mother had bought for her in 1929.
Cook, who performed professionally from 1919 until her death in 2004 at age 91, was heralded as "one of the last traditional jazz pianists whose style was rooted in the music's origins," according to a 2003 article about her in The Times-Picayune. That year, Cook was scheduled to perform on the Economy Hall stage at Jazz Fest. "There's nothing wrong with my hands," she quipped to Times-Picayune reporter Bill Grady, adding that she still played every day in her house and taught music students there.
Advertisement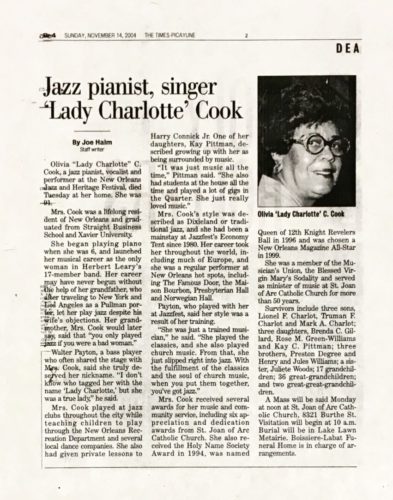 A year after Cook's death, the home sustained heavy damage from Hurricane Katrina's winds and water. The six-room single shotgun sat blighted for more than a decade, with homeless people squatting in the abandoned property.
In 2017, the Preservation Resource Center's Operation Comeback program acquired the house, with the goal of restoring it to top condition. The program has a long history of rescuing and renovating blighted older buildings that others consider hopeless. The renovations then act as a catalyst for neighborhood revitalization.
The PRC also has worked for many years to preserve and highlight sites of jazz significance in New Orleans. But it was only after purchasing Cook's former home did Becky O'Malley Gipson, then director of Operation Comeback, find out about its contribution to the city's jazz history.
In addition to performing at music clubs throughout New Orleans and around the world, Cook also taught children to play piano through the New Orleans Recreation Department and several local dance companies, as well as in private lessons at her home. Her obituary in The Times-Picayune said that Harry Connick Jr. was one of her students.
By the time the PRC bought the house, it was in sad shape. The front exterior door and the side and rear doors were missing, and there were holes in the floor. "A fair amount of the walls were caving in," said Regina La Macchia with Green Coast Enterprises, which served as PRC's owner representative and project manager for the renovation. "The back of the house was not safe to walk through."
Despite its condition, it was easy to imagine that a charming home could emerge from the decay and blight. The front porch's original decorative millwork, tapered columns, side-light windows, bead-board porch ceiling and door trim remained. The house featured a gable asphalt shingle roof with a hipped roof porch.
Architect Margitta Rogers with Trapolin Peer Architects drew up the plans for the renovation, which included restoring as much of the original structure as possible, while adding new construction in the back of the house to increase square footage. Colmex Construction was the contractor.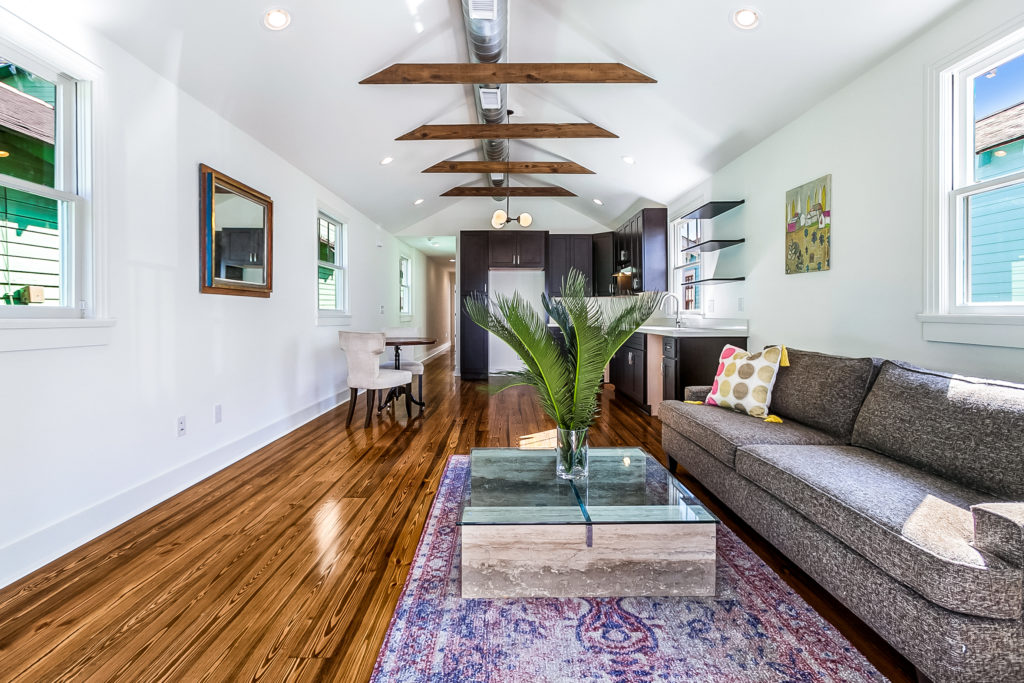 The renovated home boasts two bedrooms and two full bathrooms, with stylish fixtures and finishes, and new wood floors. Exposed wood beams add an airy element to the front room, and restored historic doors add extra panache. The home is also well-insulated and energy efficient, including a built-in dehumidifier for the whole house. "It's air sealed where it is supposed to be," La Macchia said. "You shouldn't have drafts in this house."
Now, the home is ready for a new family, and maybe music will flow from its rooms once again. The PRC listed the property for sale for $239,000 in late May.
"It's important to save houses like this to keep the historic character of the neighborhood," La Macchia said. "Now you have a house with historic details but with all the modern conveniences."
Photos courtesy Bart Gillis
Advertisements