This story first appeared in the February issue of the PRC's Preservation in Print magazine. Interested in getting more preservation stories like this delivered to your door each month? Become a member of the PRC for a subscription!
If you live in New Orleans, chances are your day-to-day travels have been affected by the on-going road work. More than likely, the work is associated with a massive infrastructure program funded by the Federal Emergency Management Agency (FEMA) as a result of a Joint Infrastructure Recovery Request from the City of New Orleans Department of Public Works and the Sewerage and Water Board of New Orleans. This much-needed project will extend citywide for approximately eight years, and is designed to repair, improve and replace damage to roads, drainage and subsurface utilities resulting from Hurricane Katrina.
Under the National Historic Preservation Act, FEMA is responsible for identifying measures that will avoid, minimize or mitigate the effects of the project on National Register historic districts and archaeological sites. To fulfill those responsibilities, FEMA worked with the State Historic Preservation Officer, the city, the Sewerage and Water Board, the Governor's Office of Homeland Security and Emergency Preparedness, Indian tribes, the Advisory Council on Historic Preservation and the National Park Service. As a result of these discussions, the city hired a Historic Preservation Specialist and a City Archaeologist to oversee the project directly.
Click maps to expand
These new positions will ensure that significant elements of New Orleans' beloved historic districts are appropriately identified and addressed. The city preservationist and archaeologist also will work closely with SHPO, Indian Tribes, FEMA and possibly area universities as the project continues.
Philip Gilmore is the city's new Historic Preservation Specialist. He is an architectural historian and graduate of the University of New Orleans' Master of Urban Studies Program. He is the city's primary point of contact for all road work issues regarding the built environment.
Gilmore is identifying and photographically documenting historic features that may be affected by the road work; reviewing plans for full reconstruction projects and all projects that may affect a National Historic Landmark; attending pre-construction community meetings; and responding to unexpected issues and discoveries.
FEMA Historic Preservation staff conducted a preliminary survey and identified many historic streetscape features in the road work project areas. Just two of those well-known features are New Orleans' blue-and-white street tiles and the mounting blocks or carriage steps found sprinkled throughout the Lower Garden District, Garden District and Uptown. The mounting blocks are large, rectangular granite or marble blocks that were used to access the high step of carriages.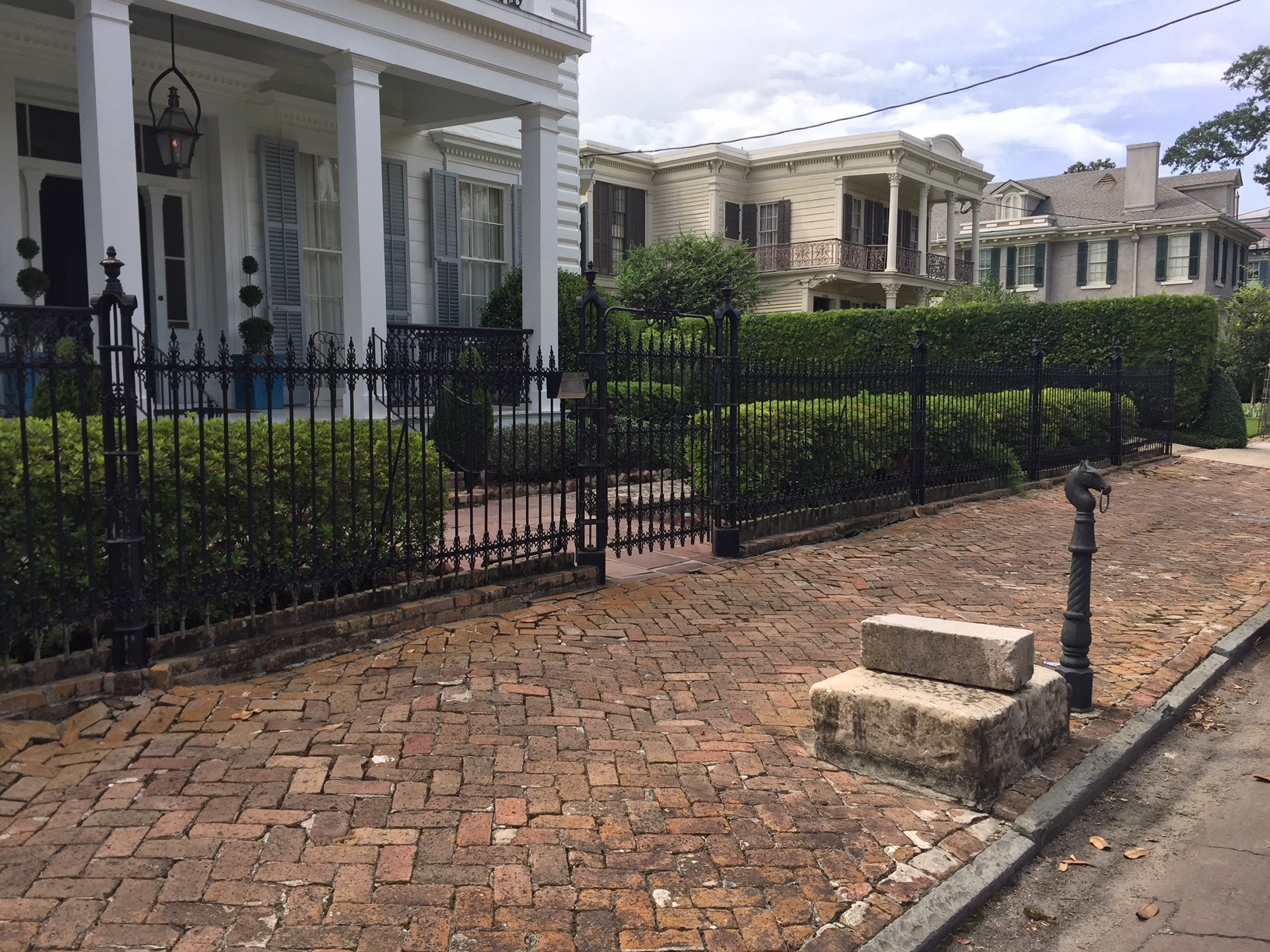 Mounting blocks like these – large, rectangular granite or marble blocks that were usedused to access the high step of carriages – can be found throughout the Lower Garden District, Garden District and Uptown.
Gilmore will conduct additional surveys and research, and compile the information into a publication that will include a historic context statement and the historic property inventory. It will provide insight as to how/why street patterns were formed; whether streetscape features are indicative of various transportation modes (such as horse drawn carriage, electric streetcar, etc.); how trends in design and geography influenced the development of streets, pedestrian paths and streetscape features; what materials were used and why; changes made to the streetscape through time; and how roadside gutters, curbs, streetlights, wayfinding signage, drainage features, neutral grounds, tree canopies and other small-scale features contribute to the National Register historic districts in New Orleans.
If you would like to notify the city about an interesting historic streetscape feature, email Gilmore directly at Philip.Gilmore@nola.gov.
Michael Godzinski is the city's new Staff Archaeologist. He has been an archaeologist in New Orleans for more than 20 years and has a master's degree in anthropology from Rutgers University. He will monitor ground-disturbing work to ensure archaeological sites are properly recorded and protected. If you would like to notify the city about archaeological concerns, email Godzinski at Michael.Godzinski@nola.gov.
Godzinski also is responsible for assessing previously conducted archaeological fieldwork in Orleans Parish with a focus on pre-European contact, European contact and colonial-era archaeological sites. This assessment will be used to develop context and a database that shows what cultural periods or components are present; how many individual sites have been examined for each component/period; what types of sites have been investigated within each period/component; what data sets (ceramic glass, faunal, floral, etc.) were obtained from each component; and how many quality data sets are there for each component. A detailed GIS map will be prepared that illustrates information from archaeological fieldwork and historic maps. The context will describe the critical gaps in the knowledge of archaeological sites that were occupied prior to the establishment of the city street grid. In addition, public outreach program materials will be prepared in either a publication, web-based application or a teaching module for use in Orleans Parish schools.
These research projects will take place over the next three years. Copies of the final publications will be available online and at selected libraries.
Andrea McCarthy is a GIS Specialist and Environmental Reviewer with the Louisiana Office of Cultural Development's Division of Historic Preservation
To find out about the work going on in your neighborhood, visit roadwork.nola.gov.
You also can get updates by following @roadworknola on Twitter and Instagram.