This story appeared in the December issue of PRC's Preservation in Print magazine. Interested in getting more preservation stories like this delivered to your door nine times a year? Become a member of the PRC for a subscription!
Photo: Fred Bookhardt at his home in the Faubourg Marigny. Photo by Jonathan Traviesa for Pelican Bomb.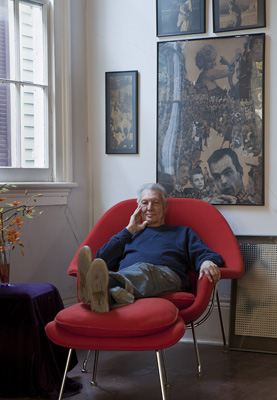 In a year with so much hardship, it's important to celebrate the good news, and the gifts we have received, when we can.
The Preservation Resource Center was the recipient of manna from heaven earlier this year when we learned that late architect Fred Bookhardt had left his beautiful double-galleried home in the Faubourg Marigny to the PRC. This astounding gift was an incredible testament to Bookhardt's dedication to his craft and to his hometown, and also to the impact of PRC's work protecting New Orleans' historic architecture and neighborhoods.
Fred Bookhardt was born in New Orleans in 1934, according to Amy Mackie, executive director of the arts nonprofit PARSE and a friend of Bookhardt. He attended Isidore Newman School, and decided to move to New York City in 1960 after listening to a glamorous aunt's stories of the excitement of living in Manhattan. In an interview with Mackie published in Pelican Bomb magazine in 2014, Bookhardt said, "I left New Orleans in part because I thought it was too small and too slow. I eventually returned for the same reasons."
Bookhardt studied under Louis Khan, one of the most influential architects of the 20th century. In New York, Bookhardt's best-known design is that of the Harry Frank Guggenheim Hall of Minerals in the American Museum of Natural History. His scope for the project included far more than the general elements of the wing: Bookhardt designed the placement for each of the more than 5,000 gems and minerals on display in the hall.
Bookhardt also worked internationally, including on the Agriculture Museum on the Nile River in Cairo, Egypt.
Despite his own bold aesthetic, which was in large part influenced by Khan, Bookhardt had a deep appreciation for historic architecture, and for whimsy, citing his favorite architect as the imaginative Antonio Gaudi, whose prolific architecture and mosaics adorn the City of Barcelona, Spain.
When he decided to return to New Orleans upon retirement, Bookhardt was delighted to purchase a circa-1867 house in the Marigny and make it his home. The property afforded him the opportunity to house artists visiting the city — a tradition his brother, artist D. Eric Bookhardt, carried on after Fred Bookhardt passed away in 2015.
When Eric Bookhardt died late last year, PRC learned that Fred Bookhardt had left his estate to PRC. And the timing of the gift couldn't have been more impactful. Little did any of us realize that our nation was about to go into lockdown for the COVID-19 pandemic. For PRC, the financial impact of the shutdown has been significant. Without the ability to hold in-person events or reach people one on one, our revenue this year has suffered.
But Fred Bookhardt's gift has buoyed our spirits, and given the PRC staff and board a literal and mental safety net through these uncertain times. Bookhardt's estate is not the first bequest left to the PRC, and we're hopeful it won't be the last. The impact of such a gift on PRC's work is profound. We are immensely honored and filled with gratitude for having been remembered in his will.
"The PRC's unexpected receipt of the estate of Fred Bookhardt was a surprising boon for the organization and a final acknowledgement of our good work," said PRC Board President Gordon McLeod. "We owe Fred a debt of gratitude for buoying our financial outlook in a year marked by uncertainty."
The Pelican Bomb interview with Bookhardt closes by quoting him saying, "I have a special place in my heart for the many old buildings of New Orleans, especially my house in the Marigny. As a college kid at Tulane, I visited a similar Greek Revival house in the Garden District. I was really impressed with it and thought to myself, 'one day…' "
We are so grateful to Mr. Bookhardt that his last wish was to support our city's incredible architecture in perpetuity.
A gift they'll enjoy all year long. Give a one-year PRC membership for $50 and they'll receive Preservation in Print nine times a year.
Advertisement