What's happening
A quick glance at construction projects around New Orleans
This story appeared in the February issue of the PRC's Preservation in Print magazine. Interested in getting more preservation stories like this delivered to your door monthly? Become a member of the PRC for a subscription!
Former Holiday Inn High Rise East
Address: 6324 Chef Menteur Highway at Interstate 10 – map it!
Owner: Peter Gardner
Architect: John Williams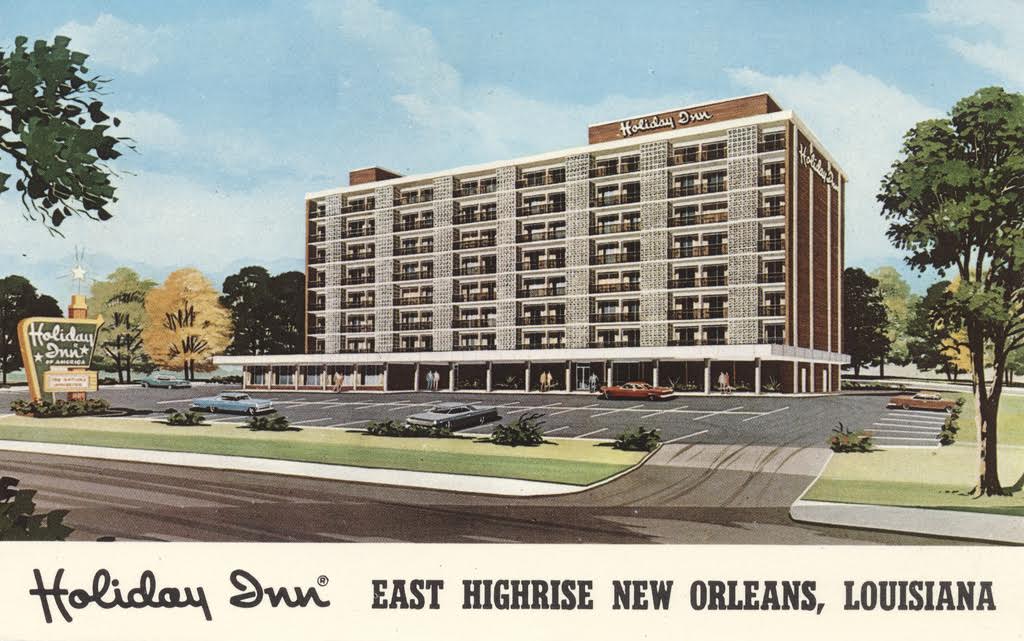 Vintage postcard
Development: Plans for a renovation are underway for this blighted former Holiday Inn perched next to Interstate 10 near the Industrial Canal. The motel has long been a canvas for graffiti and blight as it sat vacant for several years, moldering in full view of motorists zooming along the highway. Despite its decay, the motel, which opened in 1969, remains a fine example of mid-century modern commercial architecture, with cast concrete breeze blocks in a floral design. That design earned it at spot on the National Register of Historic Places last year. According to the National Register nomination, this was the third Holiday Inn constructed in New Orleans, and it "is one of the last buildings found retaining the original (Holiday Inn) style in the country." The building was sold to Ramada in 1995, and continued to operate as a hotel until 2005, when it was sold again and closed. In 2017, developer Peter Gardner purchased the property. He plans to renovate the building into 144 apartments with commercial space on the ground floor. The project hopes to utilize historic rehabilitation tax credits for the renovation.
Curious about a project? Email the address to susanl@prcno.org, and we'll consider it for a future issue.
Advertisements