This story appeared in the December issue of PRC's Preservation in Print magazine. Interested in getting more preservation stories like this delivered to your door nine times a year? Become a member of the PRC for a subscription!
by Kelsea McCrary, Director of Civic Design & Cultural Districts, Division of the Arts
The Louisiana Cultural Districts program has been helping communities revitalize their historic buildings, find a sense of identity, elevate their artists and creatives, and highlight their arts and cultural landscape since 2007. The program's purpose is to spark community revitalization based on cultural activity through tax incentives, technical assistance and resources. Outcomes of the program can lead to increased cultural activity, occupancy, commerce and jobs. The tool kit that districts can use to accomplish these goals includes building strategic partnerships, inclusive cultural planning, creating sustainable environments for artists/makers, planning accessible events and venues, and contributing to the public's awareness of arts and culture, among many other tactics.
Advertisement
This year's newest Cultural Districts are: A.P. Tureaud (Orleans Parish), Bogalusa (Washington Parish), Houma Heights (Terrebonne Parish), Lake Providence (East Carroll Parish), Marksville (Avoyelles Parish), Renoir (East Baton Rouge Parish), Scotlandville (East Baton Rouge Parish), St. Joseph (Tensas Parish) and Touro-Bouligny (Orleans Parish). These communities join a statewide fabric that reveals the diverse cultural depths of the regions where each Cultural District is located, pulling out treasures and tragedies that have shaped the unique footprint of all of the people, products and places that have called them home for thousands of years.
These Cultural Districts are preserving buildings, asking hard questions around development, getting together to sustain language and dialects, training new artists, honoring traditions and (possibly most importantly) constantly and consistently producing. These Cultural Districts are in all stages of this work, and they do it in 115 individually beautiful and effective ways. The strongest of them have recognized and elevated their creatives to a position equal to that of any other contributor while keeping preservation at the forefront of all activity, and it shows in the strategies that shape their built environments.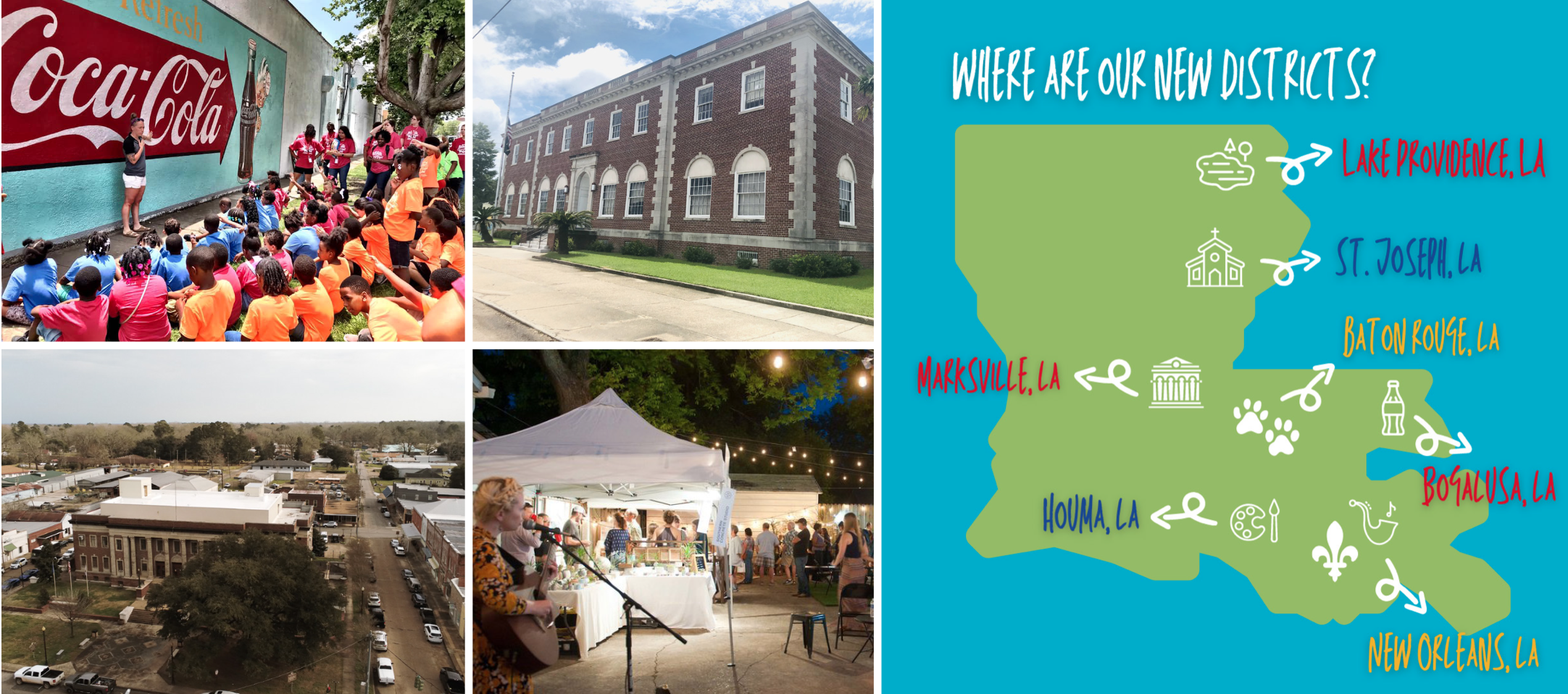 Left top: Mural activity in West Monroe.  Right top: Bogalusa Post Office.  Left bottom: Marksville Downtown.  Right Bottom: Baton Rouge MidCity Maker's Market.
With 115 Cultural Districts in 71 towns and 41 of 64 parishes, this mosaic of districts is built around the two core tenets: state historic tax credits for commercial renovation projects and local sales tax exemptions on sales of original artwork. The program maintains vital flexibility with how participating communities can leverage these tools. In 2019, the local sales tax exemption on original art benefitted 750 businesses, 3,501 artists, 197 organizations and 661 events with $8.5 million in reported local sales tax exemptions equaling more than $160 million in art sales. Also in 2019, 337 commercial renovation projects were begun in Cultural Districts, and over time the program has seen 981 of the total 1,975 applications completed. This represents an investment of $2.28 billion in qualifying rehabilitation expenses and $791 million in associated costs.
The challenges facing these communities after this year will take time to overcome, but Cultural Districts have shown their resiliency by shifting to digital programming, virtual tours of their historic buildings, and innovative means to get their audiences and constituencies engaged in their work. Recognizing that this type of work is a marathon, not a sprint, many of Louisiana's Cultural Districts are capitalizing on the strong support network associated with this program. They are leading the way in wielding preservation as both a shield and a tool to catalyze growth, to creatively use historic spaces and to keep their communities alive and thriving.
For more information about the Cultural Districts Program visit crt.state.la.us/cultural-development/arts/cultural-districts/index.
A gift they'll enjoy all year long. Give a one-year PRC membership for $50 and they'll receive Preservation in Print nine times a year.
Advertisements