What's happening
A quick glance at construction projects around New Orleans
This story appeared in the April issue of the PRC's Preservation in Print magazine. Interested in getting more preservation stories like this delivered to your door monthly? Become a member of the PRC for a subscription!
Former McDonogh 19 Elementary School, now the Tate Etienne & Prevost Center
Address: 5909 St. Claude Ave. – map it!
Owner: Leona Tate Foundation for Change Inc.
Development Partner: Alembic Community Development
Architect: Manning Architects
Landscape Architect: Spackman Mossop Michael
General Contractor: CDW Services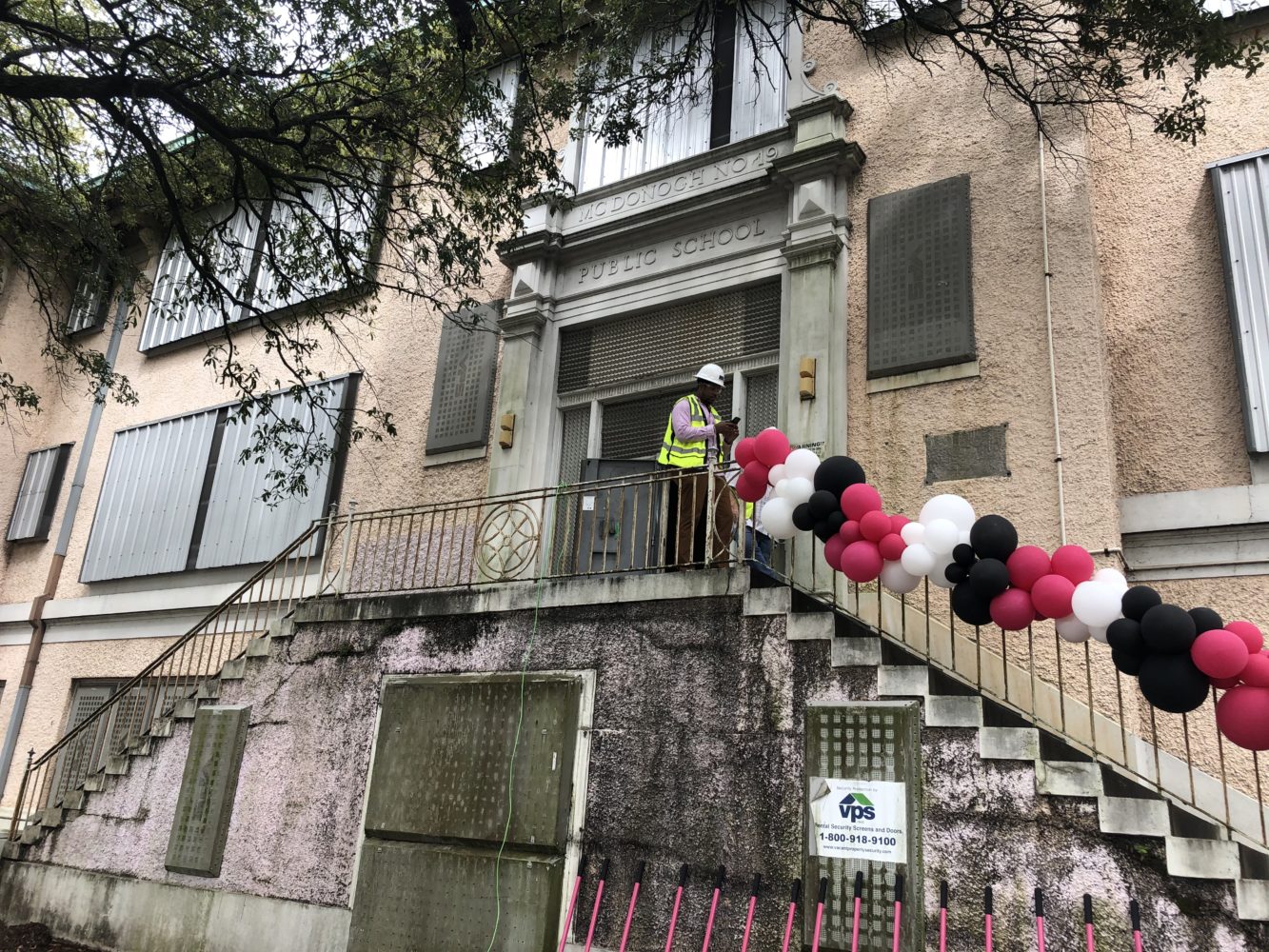 Development: This site, where three brave six-year-old girls took courageous first steps in 1960 to desegregate New Orleans public schools, will soon be transformed into a poignant reminder of the struggle for Civil Rights and a valuable resource for those still fighting for social justice. On Nov. 14, 1960, African-American students Leona Tate, Gail Etienne and Tessie Prevost, escorted by U.S. Marshalls, entered McDonogh 19, an all-white school, forcing the school system to integrate. Despite its significance as a Civil Rights landmark, the school building, designed by architect E.A. Christy and built in 1929, has sat vacant and boarded up since Hurricane Katrina. Now, 60 years later, McDonogh 19 will soon be renovated into a Civil Rights museum with interactive exhibits designed by Gallagher & Associates, highlighting the history of desegregation. The three-story Italian Renaissance-style building also will house 25 affordable apartments for senior citizens and offices for the People's Institute for Survival and Beyond, which will offer classes in its "Undoing Racism" series. The $16 million project, in partnership with Alembic Community Development, received city, state and national funding, including a grant from the National Park Service, New Market Tax Credits, and plans to utilize historic rehabilitation tax credits. Mayor LaToya Cantrell's office, the New Orleans City Council, the Housing Authority of New Orleans and the Orleans Parish School Board are among the many agencies, government bodies, banks and private organizations funding and supporting the project. Speaking at a groundbreaking in March, Michael Grote, Alembic's director of building programs, highlighted the role of historic preservation in saving important cultural history. "We need to preserve buildings for the stories and the people and events that happened there," he said, and not just for the beauty of the architecture.
Curious about a project? Email the address to susanl@prcno.org, and we'll consider it for a future issue.
Susan Langenhennig is PRC's Director of Communications and the editor of Preservation in Print.