Tune in to the virtual Shotgun House Tour on July 12 for a virtual tour of this home and Q&A session with the homeowners, contractors, and designers who make the space come alive. Learn more & register to join the discussion!

Click here to see the full schedule of upcoming virtual Shotgun House Tour events.
2929 Constance St. • Home of Michele Diboll
"This is my happy place" reads a sign hanging in Michele Diboll's outdoor living space, part of the covered carport that sold her on the home at the corner of Constance and Seventh streets.
The saying rings true for Diboll, who moved back to her native New Orleans in November 2017 after living in northern California for 25 years. The bracketed Italianate-style double shotgun is her happy place, thanks to a complete renovation of its interiors.
The home had been converted to a single-family residence in the 1970s or '80s, according to neighbors, but "there was no continuity," Diboll said. Working with Entablature Design + Build, she fixed that with practical changes and beautiful finishes. "I could see the potential, and I was so excited for the high (12-foot) ceilings," she said.
Diboll successfully oversaw the six-month project from California thanks to Entablature's Buildertrend app, which details everything from client to-do lists to invoices. She made just four trips to New Orleans to handle in-person renovation decisions, such as appliances and countertops.
"Everything went well," Diboll said, adding that going through a prior renovation on her California home helped her stress level with this project. "I knew what to look for, what to expect."
First, the freestanding fireplace was removed to make an open front room, where light pours in from the three floor-to-ceiling arched windows. The room features a striking photo by Frank Relle, entitled Gouffre, and a framed copy of the History of Cocktails, a unique chart copywritten by her relative Collins Diboll.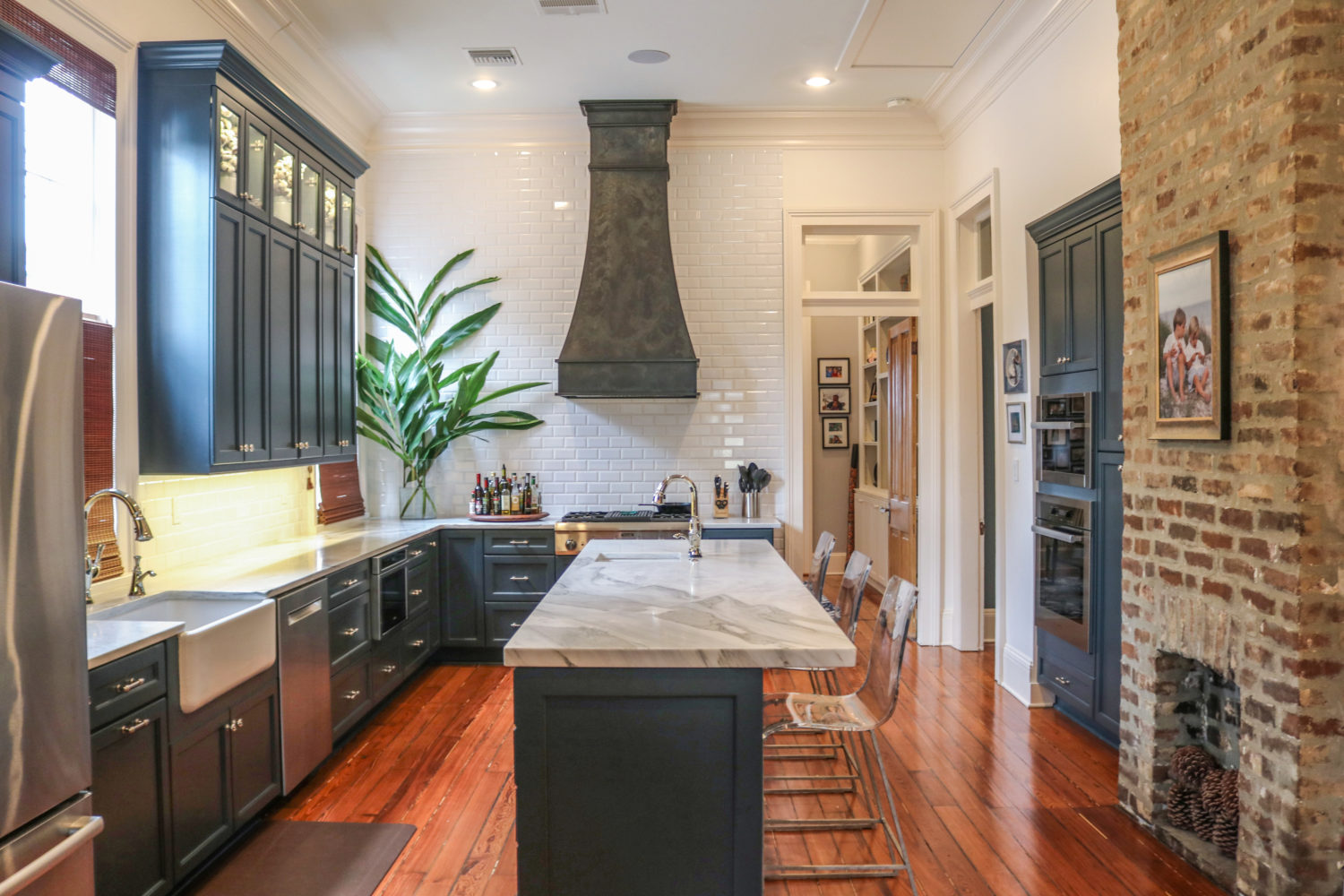 Working with master plasterer Jeff Poree, Diboll added floral ceiling medallions to the living and dining rooms. "It was a really fun process because it's kind of like a puzzle. Each one of those pieces is individual," she said.
Diboll kept the kitchen and dining room's non-functioning fireplaces. The single door and wall between those rooms was removed to create a large opening that mimics the one between the living and dining rooms, providing a better flow for entertaining.
That new opening also created a direct sight line from the front door to the kitchen's star: a 6-foot-tall carbon-steel hood hand-crafted by Raw Urth in Colorado, a company Diboll found online. "It's a piece of art. I was able to work with Raw Urth, and they customized it to fit this kitchen, the design I wanted, everything," she said of the hood, which took all day to unbox and seven men to install.
The hood's custom patina, called Winter Blue, coordinates with veining of the thick Tuscan white marble countertops, the white subway tile backsplash, and the cabinets, painted in Benjamin Moore's Hale Navy. Among the top-of-the-line appliances is a Miele sous-vide steam oven.

The two bedrooms and bathrooms also got updates, including the silvery wallpaper from Thibaut, Anna French, in the guest bath. A Roman shade and bolster pillow made from fabric Diboll found in Bangkok sets the tone for the guest room's décor.
In the master bedroom, Diboll framed a silk scarf she brought home from Bangkok to hang over the bed. She gutted the master bathroom to create a space with a large shower and a linen closet.
A third bedroom, right off the kitchen, became a den. Diboll furnished it with a sleeper sofa for additional guest space and filled its built-in bookcases with finds from travels and her three years living in Australia. The den's family photo wall includes images spanning from Diboll's grandfather in World War II to her sons. "Not many photos survived Katrina, so I display all that I have. I will continue to add to it," she said.
The adjacent rear porch became a powder room and a generous-sized, upscale laundry room. Its built-in cabinetry features a hidden spot to hang drying laundry and is topped with leftover marble from the kitchen.
With that desire for continuity, Diboll chose to add thick crown molding, matching transoms and recessed lights throughout the home.
A second renovation will include updates to the outdoor space. The patio will get covered with bricks salvaged with the former fireplace and will include a fire pit and water feature. The covered sitting area will get fans and a TV, so her two college-age sons can hang out and watch football. "It will become a more livable space," she said, adding that there's also plans to freshen up the front façade with shutters and a new front door color.
Photos by Liz Jurey
Advertisements