Tune in to the virtual Shotgun House Tour on August 2 for a virtual tour of this home and Q&A session with the homeowners, contractors, and designers who make the space come alive. Learn more & register to join the discussion!

Click here to see the full schedule of upcoming virtual Shotgun House Tour events.
3809 Annunciation St. • Home of Beth Biundo
An expansively open living space punctuated with a central four-sided fireplace sold Beth Biundo on her home, a double-shotgun-turned single-family residence.
"I kind of picked it when I just saw the floorplan, without seeing the house," said the pastry chef and owner of Beth Biundo Sweets bakery. "I knew I could make it work."
She's done that through key renovations to the kitchen, master bathroom and backyard — changes made within their existing footprints — as well as updates to bring in more storage. With a design aesthetic honed during her time working for interior designer Gerrie Bremermann, Biundo created minimally chic interiors that combine vintage 20th-century furniture with modern finds and art.
Prior to Biundo's purchase in 2007, the circa-1904 double shotgun — noted by the fish-scale shingles in its gable roof, the small Italianate-style brackets supporting the shallow hipped-roof overhang, and the symmetrical doors and six-over-six windows — had been renovated by a builder and occupied by a previous owner.
The house's location near Lilette — where Biundo spent 10 years as the restaurant's award-winning pastry chef — was ideal. But what she called the builder-grade finishes were not.
Her first round of renovations included building out closets and installing a floor-to-ceiling bookcase with space for a TV and lots of shelves for books and finds from her travels. It fills the living area's back wall and mirrors the height of the kitchen cabinets on the opposite back wall. A freestanding chimney left from when the shotgun was converted from a double to a single provides separation between the sitting area and kitchen.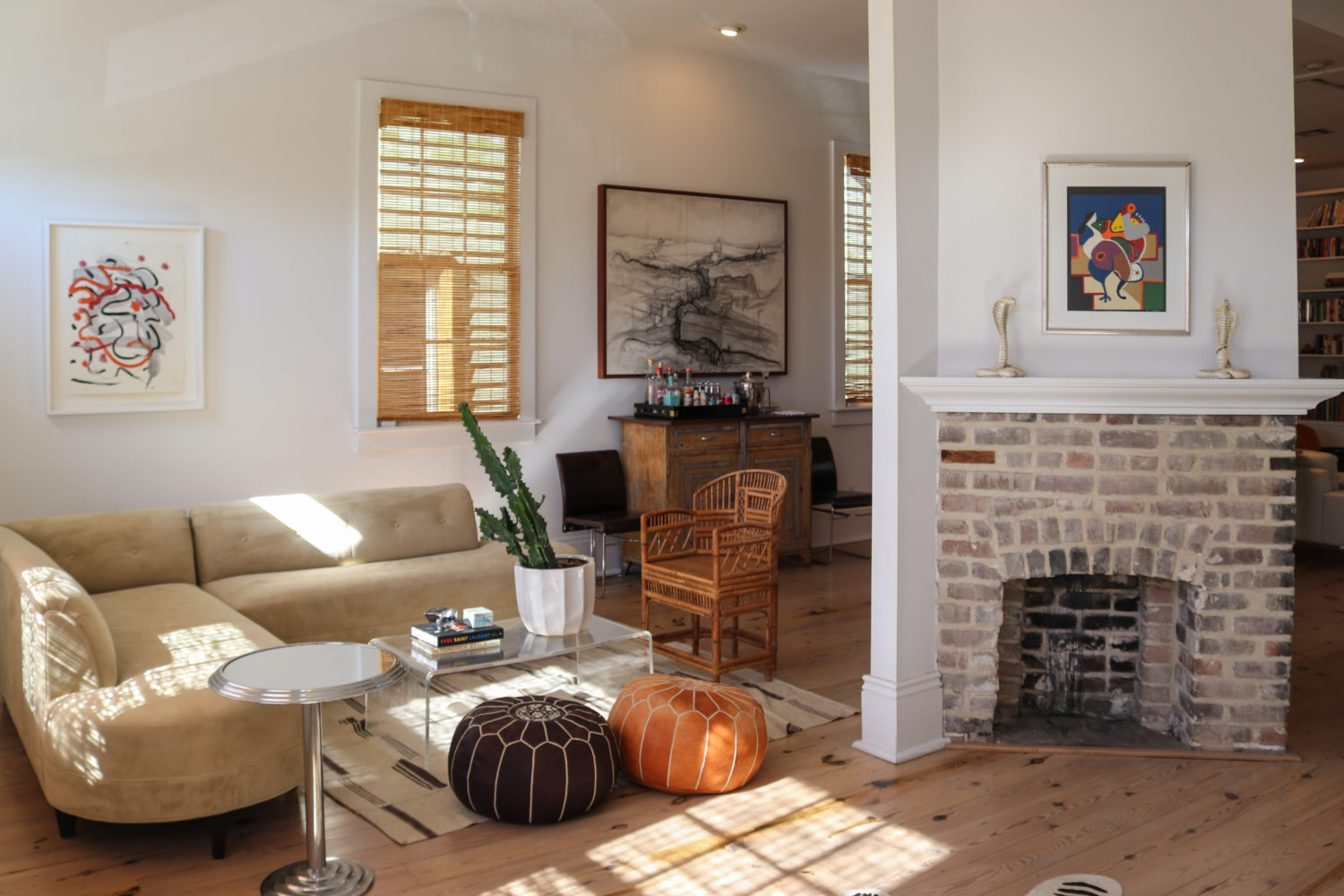 The kitchen's renovation mixed modern white cabinets with black marble countertops. Biundo chose to remove a window over the sink — two rectangular windows above the upper cabinets provide natural light — for the matching full-slab backsplash and the under-cabinet electrical outlets. The space is illuminated by an eye-catching 1960s Italian chandelier Biundo purchased before the renovation started.
A central hallway — painted a soft gray to add architectural interest — leads to the light-filled master suite, which was an addition to the home. Biundo gutted the master bathroom's giant jacuzzi tub, pedestal sink and toilet to create a new layout with a double vanity, water closet and dramatic walk-in shower.
Inspired by a Moroccan bathroom she saw in Vogue, the shower features stripes of black and white marble tiles along its three sides. "I rarely would straight copy a room. But I saw this and loved it," Biundo said.
She placed her bed, found at Jon Vaccari Design, so that it would have views of the backyard out of the master bedroom's large glass doors.
Before her outdoor renovation, the backyard had been a formal English garden with boxwoods. It "was a lot of maintenance," Biundo said. Four years ago, she did a total overhaul, turning the yard into a Balinese-inspired hangout, complete with lush landscaping, a cocktail pool and a corner cabana with a pillow-laden, oversized lounge chair perfect for relaxing with friends and her Dalmatian, Sally.

Sally's other lounging spot is one of the vintage upholstered chairs in the main living area, which is divided into distinct zones by the unique four-sided fireplace. (Originally, they were corner fireplaces in the double's front two rooms.) Each side's hearth retains the original brick, while a four-part series of paintings by a Korean artist Biundo worked with at a New York City gallery hang on the drywall above each mantel. Much of the artwork in the home came from friends, said Biundo, who worked in the art world before going to culinary school.
One fireplace faces the entry with its custom burlwood-and-zinc-topped floating console created by Louis Scott of the New Orleans design-and-build company Tectonics Built. The fireplace to the left faces a sitting area featuring a neutral sofa from Villa Vici, a cane chair from Biundo's grandmother and an acrylic coffee table.
The third fireplace sits across from an Art Deco dental-cabinet-turned-bar — found at Renaissance Interiors in Metairie — and two of six 1970s leather-and-steel dining chairs. The others surround the round Saarinen marble-topped dining table — filled with stacks of design books — in front of the fourth fireplace.
"I'm not ever trying to match anything. I mostly just buy pieces I like, and I think they tend to work together," Biundo said of her searches for just the right piece online and in nearby furniture stores. "I want to find the perfect thing for each space. So all the furniture's been upgraded, but over the course of 11 years."
The most recent change came when Biundo turned to Dwayne Braud with FloorMasters of New Orleans to follow through on a long-held vision to bleach and pickle the home's wide-plank pine floors. "It was very hard to get the right color," she said. "I didn't want it to look whitewashed. I didn't want it to look rustic."
Photos by Liz Jurey
Advertisements