This story appeared in the March issue of PRC's Preservation in Print magazine. Interested in getting more preservation stories like this delivered to your door monthly? Become a member of the PRC for a subscription!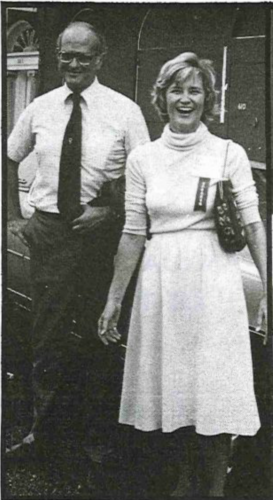 New Orleans has lost a prservation champion. Margie Villere, who served as president of the Preservation Resource Center's Board of Directors from 1980-81, died Jan. 23. "The PRC would not be what it is today without Margie Villere," said former PRC Executive Director Patty Gay.
Villere was an active PRC volunteer when, in 1976, the young organization purchased 604 Julia St. and started renovating it into the PRC's first headquarters. At the time, the 600 block of Julia Street was considered Skid Row, but that didn't deter the PRC's efforts to save the historic building, part of 13 identical row houses known as Julia Row.
"We're pioneers going into the wilderness," joked Villere in 1977, according to Preservation in Print magazine. The PRC spent three years raising the money, restoring the townhouse and bringing other investors to the block.
One of Villere's legacies is the PRC's Julia Jump. When money was needed for the headquarters renovation, Villere came up with the idea to host a fundraising party. The inaugural Julia Jump was held in 1978 at the nearby Contemporary Arts Center with Peggy Wilson as the event's first chair. Julia Jump, now called The Revival Gala, remains one of the PRC's most popular events.
A tireless supporter of historic preservation work across the city, Villere received the 1981 Outstanding Volunteer Award from the PRC. We remember her years of passion and persistence with gratitude and admiration. She will be missed. The Preservation Resource Center offers its heartfelt condolences to her family.