This story appeared in the October issue of the PRC's Preservation in Print magazine. Interested in getting more preservation stories like this delivered to your door monthly? Become a member of the PRC for a subscription!
6001 Magazine St – map it!
Owner: LavigneBaker Realty LLC
Architect: Metro Studio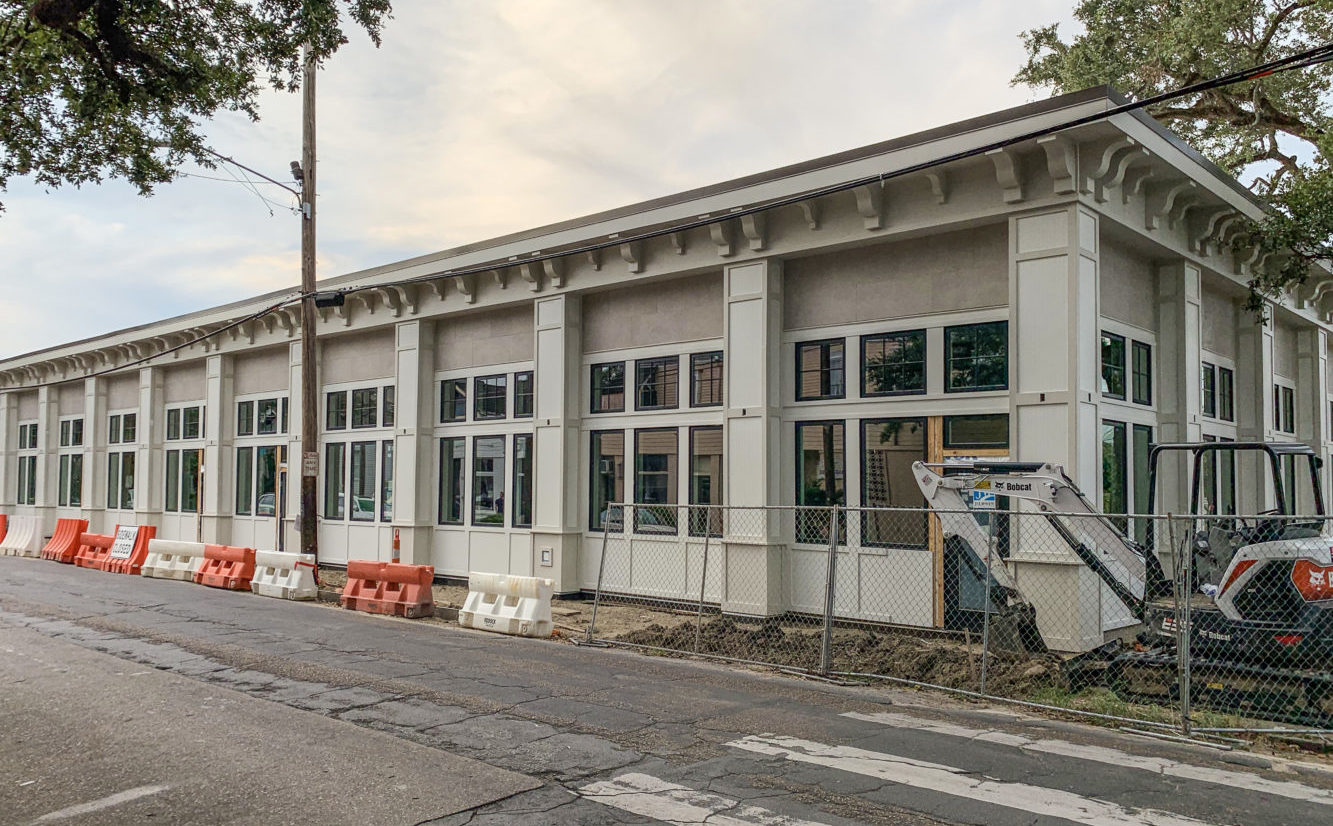 Gibbs Construction is progressing quickly on a new retail center atop the site of a former Shell service station at the corner of Magazine and State streets. Designed by Metro Studio to accommodate four retail tenants, the rhythmic façade of glass picture windows, doors and transoms meets the sidewalk. Along the cornice, Italianate brackets are twinned above the engaged columns in a nod to the building's historic surroundings. To the rear, with an exit on State Street, are 17 parking spaces. According to plans filed with the city, Starbucks will anchor the development. When meeting with neighbors, developers Clay Cambre and Brian Gibbs ruled out a bar or drive-through, according to reporting by Uptown Messenger.
5800 Magazine St – map it!
Owner: Slatten Brothers Marine
Architect: One to One Architects
Styled after the dependency of a Creole townhouse, the building at 5800 Magazine is in fact newer than most of its Uptown neighbors. Formerly the Pita Pit restaurant, it was built in the 1970s and deemed a "non-contributing" structure within the Uptown Historic District. The Historic District Landmarks Commission approved a demolition request earlier this year to make way for a mixed-use building. Developers L+A Retail plan a LCMC Urgent Care facility on the ground floor and two residences above. The team of One to One architects, Batture engineers and Salas O'Brien engineering and construction management designed a contemporary structure clad in a combination of lap siding and board and batten siding. Tall windows provide the 50 percent transparency required for the ground floor because the site is within a Character Preservation Corridor Design Overlay District. A portion of the adjacent parking lot will be made permeable to manage stormwater.
Nathan Lott is PRC's Policy Research Director & Advocacy Coordinator.