This story first appeared in the December issue of the PRC's Preservation in Print magazine. Interested in getting more preservation stories like this delivered to your door each month? Become a member of the PRC for a subscription!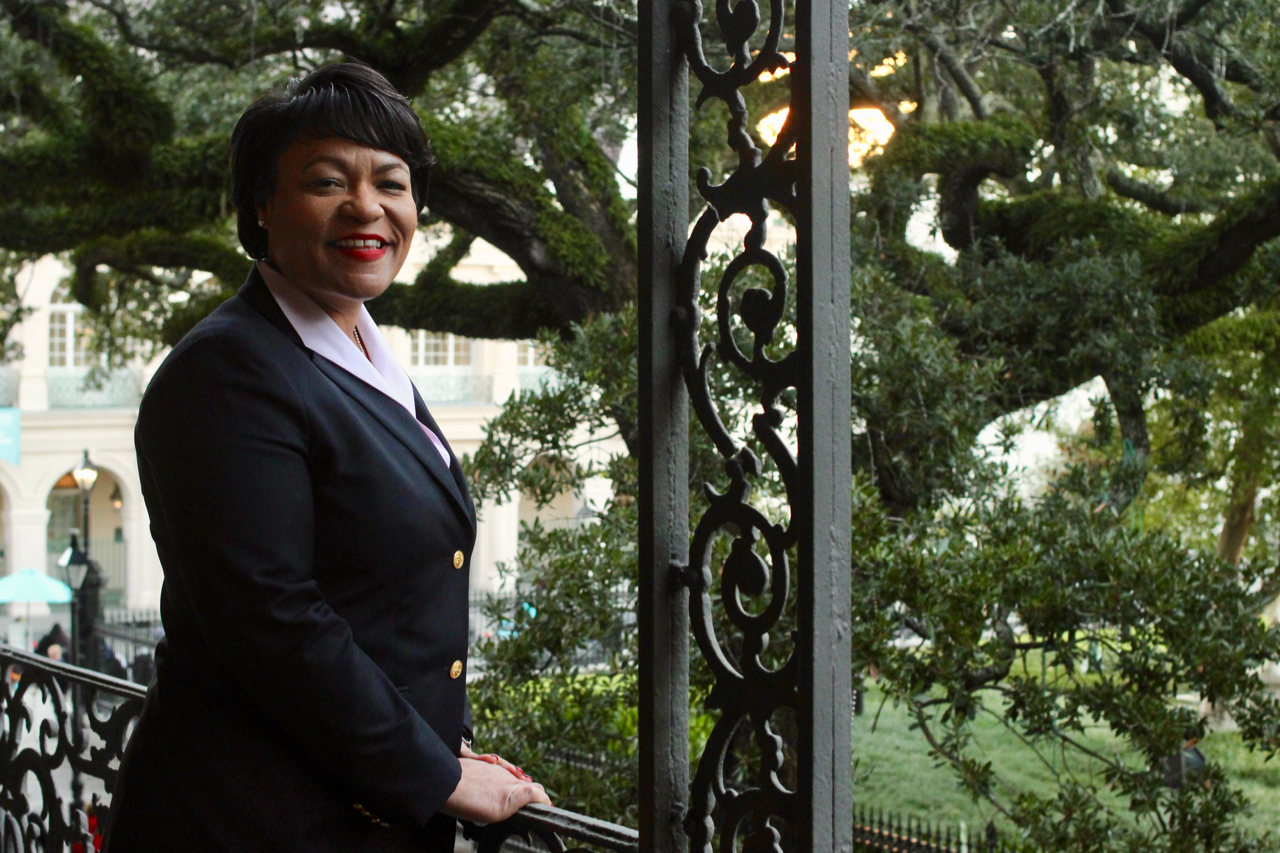 Photo by Liz Jurey
For 44 years, the Preservation Resource Center has helped save the historic architecture and neighborhoods of this city and improve the quality of life of residents in the process.
Why? Because our buildings and neighborhoods are our heritage, our wealth as a people. Because they define our brand as a city and drive our number one industry — tourism — and all the people that it employs. Because renovating buildings keeps waste out of landfills. Because healthy homes and communities support healthy and prosperous people. Because our forefathers' and mothers' hard work deserves to be remembered through the legacies they literally built along our streets. And because all children deserve to grow up in clean, safe neighborhoods.
With those goals in mind, we asked Mayor LaToya Cantrell for her thoughts on the importance of historic preservation as a tool to improve the city's economy and health.
Mayor Cantrell was an active preservationist even before taking office last May. Her post-Katrina efforts to save her community of Broadmoor led to much recognition, including an award from the National Trust for Historic Preservation.
So far, her mayoral tenure has already led to such initiatives as the Clean Up Nola campaign, which will use more than $2 million in the coming year on many community improvements, including cleaning up litter and blight. Cleaner streets mean safer streets, healthier neighborhoods and more civic pride — all outcomes that work to improve communities long term.
Prioritizing issues such as equitable and reliable transportation, resilience and affordable housing will create a city that will best serve everyone, and historic preservation tools must be employed to successfully and holistically achieve those goals.
Mayor Cantrell took the time to talk to us from the historic Pontalba Building about New Orleans' past and its future.
Advertisement
As Mayor, what's your biggest worry for the city's historic neighborhoods?
My biggest concern is for historic neighborhoods to be preserved and embraced for future generations. New Orleans is a city like none other. Her history and her treasures run deep and are second to none. A large part of that rests in our historic neighborhoods. From Tremé, which is the oldest African-American neighborhood in the United States, to the historic French Quarter, the crown jewel of the state established in 1718, to Bywater, Faubourg Marigny, Algiers Point (the second-oldest neighborhood in New Orleans) and more. The list goes on and on. This is what makes New Orleans special and makes her unique. Preserving our neighborhoods is extremely important. Within our neighborhoods lay the true meaning of New Orleans — her people. That's what makes our city so great.
After Hurricane Katrina, Broadmoor was among the places proposed to be converted to green space. You helped lead the grassroots community effort to save the neighborhood. What lessons did you learn from that experience that you use now as mayor?
I learned to listen, not just hear, but really listen. I also learned that no voice is too big or too small. Every single person matters. When I led the post-Katrina effort to rebuild the Broadmoor community, we had neighbors, volunteers from all walks of life, every ethnicity and socioeconomic status united behind a common cause. From that, I learned that people really want the same things: quality housing, great schools, access to information and technology, etc. I also learned that the strong need the weak and the weak need the strong. Broadmoor was the first integrated community in New Orleans and is still a microcosm of the city. You have to listen and work with everyone. Fifty percent of something is better than 100 percent of nothing. Community means compromise. It's a win-win for all.
How did your experience growing up in Los Angeles, a city very different from New Orleans, shape your vision for neighborhoods?
Neighborhoods are about people. Right? Our people make our neighborhoods what they are. That was the common denominator for me in my early childhood. Whether I was in Los Angeles, Birmingham (with my grandparents) or here in New Orleans, I was always surrounded by good people. The good always outweighed the bad. That is, until things took a tragic turn in the mid-1980s. I witnessed, first hand, the horrible impact of the crack cocaine epidemic in urban America. That, coupled with a lack of federally funded social services, ripped families apart. It even made its way to the South and all across the country. I saw it on the West Coast, in the South, and everywhere I went. Not only did it leave an impression on me, but it impressed upon me to, someday, work to build better, safer and more holistic neighborhoods. True story: One day my cousin and I, as kids, were walking with my grandfather to the neighborhood corner store when he was attacked and robbed at gunpoint. It happened right before our very eyes! Ironically, his attacker was someone who worked for him and who happened to be on crack cocaine. That's why I'm so passionate about building stronger, healthier and thriving communities. We deserve it, especially our children.
For the New Orleans Tricentennial, we've spent a lot of time looking back at the city's history this year. Looking forward now, what role do you think historic preservation will play in the future of New Orleans?
The future is what we make it. Preservation will only play a big part if we make it one, and we should. In all things, we must honor and preserve our past. Historic preservation is one of many ways to do that. As New Orleans' historic neighborhoods are preserved for us to appreciate, it's my hope that the city my daughter calls home will be preserved for my grandchildren to one day enjoy.
Advertisements